Service Network
SANKI service network covers Asia, Oceania, Middel East, Africa, East Europe. The service providers are from 30 countries. They are our dealers as well.
The dealers distribution is shown in the map.
Service providers authorized by our company are all strictly trained and examined, provided with the ability to locate faults and repair the equipment made by Sanki company, and promise to provide services according to the promises made by Sanki company to its users. If an authorized service provider fails to fulfill required service and quality, please contact Sanki company. Sanki company will strictly monitor the behavior of the authorized service provider, and urge the service provider to fulfill service items for you.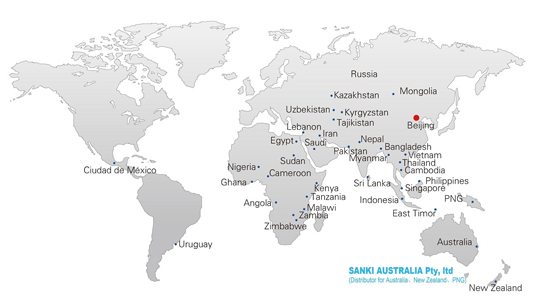 Warranty Information
For New Pump and Dispensers
SANKI company limited warrants the original petroleum equipment products supplied by SANKI are free from defects in design, material and workmanship under normal use and service for 12 months starting from the date of installation, not to exceed 18 months from the date of bill of lading, whichever occurs earlier. SANKI guarantees free service fulfilled by our local distributor or authorized representative for maintenance under normal use and operation. New equipment installation must be registered in SANKI by returning the signed end user information form within 30 days upon the installation date to receive warranty benefits. Otherwise the warranty will not be covered by SANKI.
The distributor or authorized representative will repair or replace parts or equipment found to be defective in material or workmanship at its own sole judgment during the warranty period by supplying new or rebuilt parts at its option. Parts under the coverage of this policy, if requested by Sanki, shall be returned to SANKI with freight prepaid. The replacement parts shall be sent from SANKI.
This warranty excludes nonreusable breakaways, emergency shut off valve, hose and nozzles, filter and its strainer, belt, blade for vane pumping unit as well as other graphic materials specified by customer. Components specified by customers may be warranted by their original manufacturers. The warranties, as set forth above, are made expressly in lieu of all other warranties, either expressed or implied, including, without limitation, warranties of merchantability and fitness for any particular purpose and of all other obligations or liabilities on our part. Further, we neither assume, nor authorize any other person to assume for us, any other liability in connection with the sale of the all petroleum equipment products which has been subject to accident, negligence, alteration, abuse, or misuse, or which has been subject to any damage from any act of nature or any force majeure.
The sole liability of SANKI for any breach of warranty shall be as set forth above. We do not warrant against the modification done by customers themselves and damage caused by accident, abuse, faulty, improper installation or operation. In no event shall SANKI be liable for any direct, indirect, incidental or consequential damage or loss of product.
Trainning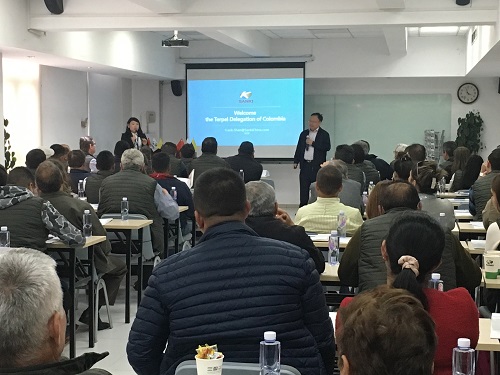 SANKI provides each customer with complete training. The customer can participate in technical training organized by Sanki company or an authorized service provider; And we can also send engineers to your place for training.
Training contents include
1) Product installation and repair, the structure and working principle of the fuel dispenser, new product knowledge, service conceptions and norms, service protocols and working procedures etc.
2)During on-site installation and equipment repair, we can provide the customer with free on-site training;
3)We can carry out remote technical training and guidance via communication means such as network;